"Ads Don't Work": A Guide To Reaching Your Most Coveted Consumers
"Ads Don't Work": A Guide To Reaching Your Most Coveted Consumers
Though it's somewhat intuitive given high internet usage of the last several years, online ads have been one of the most lucrative forms of digital media for companies. For the last five years, ad spending has continually risen, and with the release of Q4 spending statements, ad budgets of 2016 were expected to churn uphill as they've been doing since 2013. But the
reports
released last week by
Kantar Media Group
predict a different fate for the future of digital spending: a sharp, rapid decline. According to the report, which included media spending data on the top twenty grossing companies in North America, median digital ad budgets has shrunk by 4% between 2015-2016, after swelling 10% in the preceding year (2014-2015).
Median Percent Change in Ad Spending, Top 20 US Companies Though unexpected given the rise in online media, these lowered rates do for once coincide with the trend of overall advertisement spending growth. According to these budgets, the growth of traditional ads has slowed, meaning there's been less TV commercials and ads in print magazine, newspaper, and radio from 2013-2015. But 2016 truly set the beginning of the end for traditional ads, as total budgets went from a lowly 30% rate of change in 2015 to a downright -13% in 2016 (slide 3 of "Advertising Spending Overview, Top 20 US Companies, found below). Still, the drop in overall ad spending doesn't exactly account for the fall in digital, because the latter is far cheaper than traditional ads; they don't necessitate heavy production or airtime costs. If ad budgets were tightened, more affordable digital advertisements would save a company from having to sacrifice viewer impressions, and one would expect an increase in portions of digital ads. Social media, for example, is fundamentally designed to share, spread, and reproduce information in networks, making audiences wider and gaining impressions easier. According to a
study
conducted by LinkedIn, it takes $57 to reach one thousand people with direct mail, followed by broadcast advertising at $28. On social media, the cost of thousand impressions totals about $2.50.
So what's the damage in digital?
To understand this answer, knowing the general ad spending trends of each industry, and how digital spending portions into it, may be helpful.
Advertisement Spending Overview, Top 20 US Companies
Only here does the drooping digital trend become a little clearer. Since 2014, there's been a
sentiment
circulating that consumers, especially young ones, are growing a thicker skin to the seduction of advertisements.
According
to Matthew Tyson, a media strategist at WideNet Media Group, digital advertisements are no exception. He starkly declared, "In the 20 years I've used the internet, I've never once clicked on a banner ad. Traditional advertising literally has no effect on me. It doesn't influence my buying habits whatsoever. In fact, I feel comfortable saying that I'm completely immune to it."
Daniel Newman, CEO of Broadsuite Media Group,
explains
that young online users "don't want to be talked at. They are used to having control over information at their fingertips in their lives, and their interaction with brands online is no different."
In line with these statements, the fall of digital display ad spending suggests that this aversion to ads is indeed transferring online. In 2013, display advertisements, which include banner ads, in-text ads, and popup ads, accounted for 65% of all digital spending, leaving search engine spending at a slight 35%. In 2016, display spending among these companies was reported at $377,030,915, or 24% of all digital spending.
When looking at specific industry spending, the budget for digital display ads again falls over time.
Unsurprisingly, the negative growth in display ads complements the steady rise in the use of ad blockers on both mobile and desktop.  According to
eMarketer
, 77 million people are using ad blockers on desktops in 2017, and 29 million are using them on mobile. However, ad-blocking is a
problem
for websites who rely on ad revenue to operate. Popular sites such as
Forbes
,
GQ
,
Wired
, and the
Telegraph
often require users to disable their ad blockers in order to continue to the site. Even social media companies like Facebook, which highly monitor their user experiences, are threatened by ad blockers. In its 2015 10-K, Facebook
admitted
, "Revenue generated [for Facebook] from the display of ads on personal computers has been impacted by these technologies [ad blockers] from time to time. As a result, these technologies have had an adverse effect on our financial results and, if such technologies continue to proliferate, in particular with respect to mobile platforms, our future financial results may be harmed. Indeed, in Q2 of 2016, 84% of Facebook's revenue was ad-generated. With their steady rise, Facebook is
said
to have plans to "force advertising on ad-blocking users," by "disguising on desktop service from ad-blocking software."
Forcing people to view ads against their specific intent to do otherwise is presumably not doing much for the brand-consumer relationship, especially since, according to Matthew Tyson, "millennials don't trust ads" anyway. But there's an alternative solution. In Casey Johnston's
analysis
of shifting digital spending trends for
The New Yorker
, she explains "ad blockers do nothing to guard against—and perhaps even encourage—other forms of advertising, such as 'sponsored content'—articles, photos, or videos that look similar to a given Web site's content, but are commissioned by advertisers."
These "other forms" of advertising that Johnston is referring to are called "native advertisements"—they appear
native
to the environments in which they are displayed, and are thus undetected by ad blockers. An advertisement for Walmart on Facebook, for example, appears in almost the same format as a regular post to an article that a friend might have liked; an advertisement on a search engine like Google appears like one of the results Google found for that search term; an advertisement in a video appears to be no different than another video on YouTube.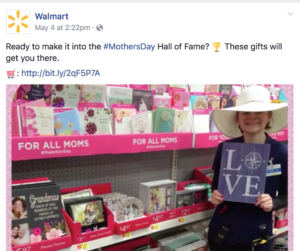 Walmart's Mother's Day Advertisement on Facebook, May 4, 2017
Melanie Deziel, a native-advertising consultant for brands and publishers, explains that with native advertising, "we're trying to help a brand offer value, not let the brand be, well, brand-y." As a consultant, she assists companies in strategizing the creation of native digital content, like video and social media posts, so that they are "useful" for readers. "The overall goal," she explains, is that "the brand offers value in the form of media," and that when a reader realizes the video or post is brand-created, a customer "should be like 'Oh, this brand is actually teaching something or sharing something with me.' Hopefully it's not a reaction where readers find out [that the media is created by a brand] and they're upset. That wouldn't be ideal for anyone."
Perhaps, then, this trend explains the two single two categories of ad spending, both digital and traditional, that did find relative success in 2016: video and mobile spending.
Total Digital Ad Spending Among Top 20 US Companies, By Category
While search is decreasing and display is nose-diving, mobile is large enough to at least be considered a new category and video is not quite falling as rapidly as the other two. In terms of mobile ad spending, this does not include display ads in mobile browsers, or those that mobile ad blockers are flagging. They're in-app advertisements, such as those found in Snapchat Discover or Facebook mobile. In fact, Apple's introduction of the mobile ad-blocking software on Safari
increased
mobile-advertisement purchases. Since Apple takes a portion of ad revenue generated in apps purchased from the App Store, creating an ad blocker on Safari incentivized companies to invest in in-app ads. This is quite strategic, given that mobile spending has signficantly
surpassed
that of desktop. In 2016, about $400 billion dollars were spent on mobile, $50 billion dollars more than on desktop. Throughout 2016, mobile ad spending among the largest 20 companies did fluctuate, though were consistently high across all industries.
Evidently, there's quite some investment. Videos traditionally work best on platforms like Facebook and, obviously, video streaming platforms like YouTube. Facebook's algorithms are
optimized
to promote videos in newsfeeds, a feature launched by the company around early 2016 as a means of combatting the rise in display ad-blockers. Videos in feeds become then, like TV on the internet. But this breed of sponsored videos is nothing like its show-interrupting, commercial-break, network-TV ancestors. Instead, online video ads are usually informative, interesting, or valuable to the user in some way. For example, Heineken's recently popular
ad
, which featured two people with conflicting social and political opinions, had them work together to build what they discovered to be a bar. At the end, they chatted out their differences over a bottle of Heineken. The ad was very well received, proving to be a piece of content with which users
actually
enjoyed engaging. Additionally, brands will
choose
to sponsor content with pre-established fanbases, such as sped-up cooking videos, such as Buzzfeed's
Tasty
videos.
Indeed, Berkshire Hathaway, the country's fourth largest company, invested $36 million in online video ads, followed by General Motors and Verizon Communications.
Video Advertising Spending in 2016, by Company Various reports (
Forrester
,
Forbes
,
Inc.com
) estimate the next five years will include even heavier investments in ad spending, perhaps totaling over 50% of all digital spending.
Yet the question of why ad budgets are lowering so much still remains. The last place left to look, then, is in plain sight: the multi-billion-dollar industry of search engine advertisements. Though this key category of digital ad spending once stood in the shadow of display advertising, making up, as mentioned earlier, only 35% of total digital spending in 2013 among the top grossing companies' budgets, today it occupies 57% of total digital spending among those same companies, exceeding $880 million dollars. And yet, since 2015, the budget growth has also slowed down.
Search engine spending, which primarily takes place through Google's AdSense and AdWords platforms,
generated
$79.38 billion dollars of ad revenue for Google. But for those companies looking to appear high on a search engine result list, employing a good SEO (search engine optimization) strategy, seems to be becoming more
preferred
than ad spending. By explicitly using terms in the copy of a website and in the site's metatags, as well as by building a network of links that lead back to the site, a company effectively optimizes their site for a Google search engine crawler to find it and list it in the results for a search term. For example, if a plumbing company's website says "New York Sink Plumbers" in the metatag of every page, it increases the likelihood that search crawlers will list that site in its results for the term "sink plumbers near me." These strategies are free and fundamental to the code of the site.
Moz
, an SEO management software, which guides users in creating a data-driven SEO strategy and decrease their reliance on AdWords, has seen unprecedented
success
in recent years, leading to a Series C
investment
of $10 million in January of 2016.
Interestingly, there is no explicit native advertising data made publicly available, as those statistical gems are kept private for use in marketing materials by the software companies like Moz, which are profiting off of native advertising itself. But public reports attest to the popularity of native ads. Such is the law of strategic advertising: drooping trends in traditional methods never mean advertisers have given up--it's fairly ubiquitous knowledge that advertisers don't give up. Rather, they've found something new that they're not yet explicitly reporting (unless they are, in which case, as mentioned, they're selling it). As Daniel Newman explains, "people haven't stopped buying things, but how and why they buy those things has changed." For the first time in advertising's history, slowed budget growths does not equate to less impressions, instead, brands are discovering more efficient and cheaper ways to advertise that inherently allow for, nay, encourage, smaller budgets. This revolution in traditional advertising strategy marks the exciting potential for the future of online media.
Companies in the Survey included, in alphabetical order:
Amazon Inc., AmerisourceBergen Corporation, Apple Inc., AT&T, Berkshire Hathaway, Cardinal Health, Cargill Inc., Chevron Corporation, Costco Wholesale Corporation, CVS Health Corporation, Exonn Mobil, Ford Motor Companies, General Electric Company, General Motors, Hewlett-Packard, McKesson Corporation, The Kroger Co., United Health Group Incorporated, Verizon Communications Inc., Walgreen Co., and Walmart.